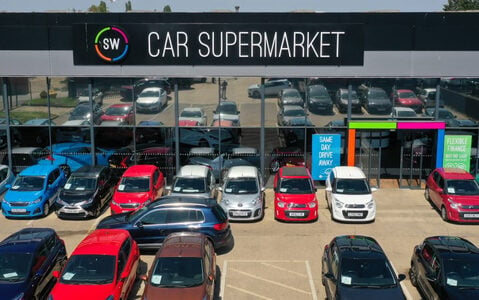 The SW Story
CELEBRATING 10 YEARS OF USED CAR SALES
Founded in the summer of 2010, SW Car Supermarket is celebrating 10 years of selling used cars in Peterborough. Over the last decade, we have developed a hugely successful business and are proud to support the local community where our two dealerships are located.
At our SW Car Supermarket and SW Car Superstore showrooms, customers can discover up to 2,000 used cars from 35 makes and models. We pride ourselves on offering low priced, high quality used cars and are confident that we stock the type of vehicle to suit your needs.
So when did it all begin?
In June 2010, Peterborough resident Anton Khan, realised his dream of opening a used car dealership in his beloved hometown and SW Car Supermarket was born. So why SW? Anton's first dealership began its life in the Silverwood area of Peterborough, so the letters SW pay tribute to its humble beginnings.
Anton is one of the youngest chief executives in the motor trade who had no previous experience of selling vehicles. With just £5,000 of savings behind him, he learnt the ropes the hard way as an independent trader. He used his passion for cars and driven determination to get his business off the ground and had high hopes for the future.
It wasn't long before Anton had secured a stock of 100 cars, which quickly doubled to 200 cars. Demand from local customers grew and he was soon selling 50-60 cars a month. Six-and-a-half years later and Anton had established a profitable business that prompted a move to larger premises.
In January 2017, SW Car Supermarket relocated to its current home of Padholme Road business park in Peterborough. The site needed a lot of work to cater for the amount of cars required and now has room for 800 vehicles plus the company's workshop facilities, which are also on site.
Anton's aim was to deliver a new car buying experience with a used car supermarket price tag. SW Car Supermarket holds a wide variety of family-focused brands teamed with ultra-modern facilities and fittings. It has a focus on great customer service, delivering on a friendly and welcoming approach in a relaxed environment.
In May 2018, Anton was ready to grow the brand and purchased a second site - this time on John Wesley Road in the Werrington area of the city. A year later, SW Car Superstore was open, with room for up to 1,000 premium brand vehicles. It is now East Anglia's largest independent dealer for Audi, BMW, Mercedes-Benz and Volkswagen cars.
So what's next for SW? 2021 is set to become another exciting year for the company when it will invest in a further 1,000 vehicles to its stock. Watch this space!
A look back at our journey...
JUNE 2010
In the summer of 2010, SW Car Supermarket was born in the Silverwood area of Peterborough. When the dealership first opened, it had a modest 100 cars in stock as demand for used vehicles rapidly grew.
JANUARY 2017
Over the years, SW Car Supermarket became the first-stop shop for used cars in Peterborough and beyond. It made the big move to Padholme Road business park on the outskirts of the city, holding up to 800 vehicles in stock.
JULY 2019
The summer of 2019 marked a big year for SW, when it opened SW Car Superstore not far from its Car Supermarket site. The sister branch showcases the finest selection of premium brand used cars at the lowest prices.
JANUARY 2021
Even bigger things are in the pipeline for SW in 2021. The start of the year will see SW Car Supermarket and SW Car Superstore expand its offering to customers, with an extra 1,000 vehicles in group stock!