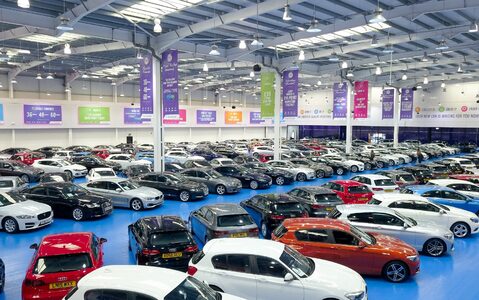 SW Online
Reserve Now. Click & Collect
Click & Collect at SW Car Supermarket and SW Car Superstore
Buy Online...
We're welcoming walk-in customers to our SW Car Supermarket and SW Car Superstore showrooms again, but you can still get your hands on one of our fantastic used cars by taking advantage of our online buying process too.
Choose from over two thousand quality used cars all at low prices, so whether you're looking for an SUV or hatchback, estate or sports car, we are bound to have the right car for you. What's more, you don't even have to leave the comfort of your sofa to get your hands on it!
Simply reserve your desired car now for a fully refundable £200 fee and we'll be in touch to help you complete the rest of your purchase. Rest assured that we offer a COVID-safe handover of your new car at a designated Click & Collect point on our premises.
In addition to the above service, for a limited time, we will also provide a free application of Stayzon, an anti-bacterial and anti-microbial application. This treatment kills multiple strains of the virus and has the required strength to kill COVID-19.
Deal & Deliver
Our delivery service is completely contactless, no need to leave the house, no need for face-to-face contact. Simply find your car online and have it delivered to your door. Read on below for more information about the safety of our deliveries and our process. Rest assured, your health and safety is our priority at all times.
Click & Collect
Buy your car online and collect it from one of our showrooms. Reserve a car you love and we'll get the car ready for you to collect at your convenience. We take your safety seriously and are abiding by all social distancing measures.
All of our cars are listed on our used car pages alongside all the latest deals and offers, so discover your next car today.
Find & Buy Your Car Online Now!
Frequently Asked Questions
These are unusual times for us all and we want to reassure you that the health and well being of both our customers and staff are of paramount importance at all times. Below we've outlined more information around our contactless delivery service, however, if you have any questions, our call centre team are still available on 01733 822 616
⊕ Where do you deliver?
Our delivery service is available throughout the UK and is free of charge within 30 miles. Please contact us for full details. Our full distance sale terms and conditions can be read here.
⊕ Will the handover be safe?
Yes. All delivery drivers and assistants will be supplied with personal protective equipment for both the safety of you and our team members.
They will stand at a safe distance as dictated by Government guidelines and ensure they are not in the vehicle with you at any time.
⊕ I'm unwell or self-isolating. Will you still deliver?
If you are self-isolating or in an at-risk group, we regret to advise that we will be unable to deliver to you. This also applies if you are unwell or are displaying any known symptoms of the COVID-19 virus.
If we are unable to deliver rest assured we will try again when you've fully recovered and the subsequent 14 day quarantine period has passed. Your delivery will be rescheduled free of charge.
If you become ill after ordering, please speak to us. The safety of you and our team is our top priority at all times.
⊕ I've reserved my car online, can I collect from one of your dealerships?
Yes, our showrooms are open. Government guidance on social distancing will be strictly abided by at all times. Collection is strictly by appointment only.
⊕ What is Stazyon?
Stayzon is an anti-bacterial and anti-microbial application. Stayzon forms an invisible barrier on all the surfaces of the interior of your vehicle and its air-conditioning system, immediately sanitising and eliminating harmful microbes and bacteria present.
⊕ Can I add products such as GAP insurance and Warranty?
Yes! If you want to add products to your order, please call our sales team who will be more than happy to help and talk you through your options.
⊕ How much is the reservation fee?
£200, which is fully refundable in the event you change your mind.
⊕ What happens if I change my mind about the car?
No problem! If you are unhappy for whatever the reason, we will refund your £200 reservation fee, no quibble.
⊕ Is the reservation fee used as part of my deposit?
Yes, if you decide to proceed with your purchase we will use your £200 reservation fee as part of your deposit.
⊕ Are my card details safe?
Yes, your card details are processed via industry-standard encryption.
⊕ What cards do you accept?
We accept American Express, Visa and MasterCard. The initial deposit can be paid over the telephone or via our reserve option against each vehicle.
⊕ Can I speak to a member of the team about my order and delivery?
Yes, no problem. Our call centre team are on hand and ready to assist you should you need any help or have any questions. Our opening hours are detailed here.