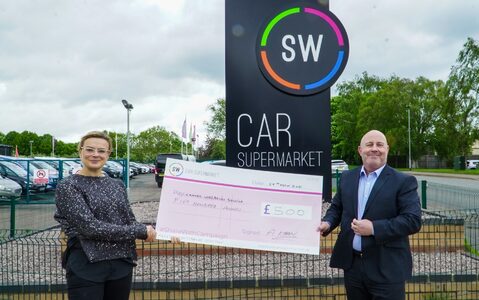 Share With Campaign
A Vehicle For Change In The Community
Our Share With charitable campaign was launched last year, designed to support the charities and community groups in our beloved city of Peterborough, where the two SW showrooms are located.
We're a used car supermarket with a conscience. As a large employer in Peterborough and the surrounding communities, we believe it's important to play our part in that community, giving back where we can. Every few months, we've pledged to give away a grant of £500 to support those who need it most.
In September 2020, we awarded our first Share With grant to Families First Peterborough. The charity is committed to supporting children, young people and families who have the most need through positive activities.
Then in December 2020, we encouraged local charities to apply for £500 festive funding in time for Christmas. The money was awarded to Bearded Villains East Anglia - a community group that dedicates its time to helping people across the county and supporting the most vulnerable in our society.
In April we once again asked local charities and community groups to apply for a £500 grant. Congratulations to Lisa Deacon and the team at Peterborough City Hospital's Cancer Wellbeing Service who we've awarded the funding to this time around.
The winning cause was selected by a panel of SW Car Supermarket employees, headed up by our CEO Anton Khan, and Operations Director, John Marshall. Click here to find out more.
Thank you to everyone who took the time to apply for a grant. Applications for the next round of our Share With funding will open again in August.