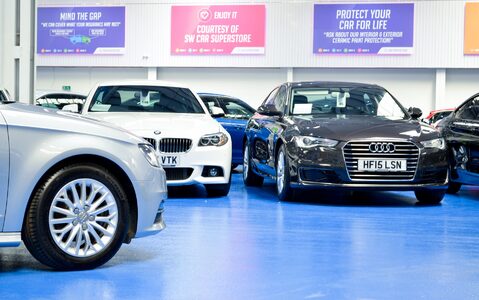 Acceptance of Terms
Welcome to the Terms and Conditions of SW Car Supermarket (Agreement). By entering in to a contract with us you agree to abide by this agreement and by our privacy policy. These are legally binding agreements between you (the customer) and us (SW Car Supermarket).
Information about us
SW Car Supermarket
Padholme Road East
Peterborough
Cambridgeshire
PE1 5XL
01733 669600
www.swcarsupermarket.uk
Sale of Goods and Services
SW Car Supermarket operates under and are governed by the Consumer Rights Act 2015 and other associated legislation. In addition we add protection for the consumer and trade who purchase goods and services from us.
Goods purchased from us over the counter may be returned undamaged and unused within 7 days, when a full refund less handling charges will be made. Thereafter we will not accept the goods back. However, goods may be exchanged for up to 30 days following purchase from us and will be bought back at a reduced price due to additional usage and ownership.
All goods and services are offered in utmost good faith.
Goods purchased on line are subject to the Distance Selling Regulations, unless collected in person.
Making an Order / Payment of Deposit
In you placing an order to purchase one of our vehicles, we will ask you to deposit a sum discretionary to us of either £250 (Two Hundred and Fifty Pounds) or £500 (Five Hundred Pounds) which will enable us to remove the vehicle from sale. This deposit allows us to stage the vehicle into our preparation centre where it will undergo checks making it ready for collection. This deposit is only refundable to the sole discretion of SW Car Supermarket and on the basis that the customer will indemnify us as defined is clause "Cancellation" against all losses inclusive of profit.
Contract
(a) The order of a motor vehicle by SW Car Supermarket at the agreed price and any allowance in respect of a motor vehicle offered by the customer incorporates the following clauses and only becomes binding after being accepted by SW Car Supermarket.
(b) The order (except where varied by an agreement between the parties which is recorded in writing and signed by an authorised representative of SW Car Supermarket) shall constitute the entire contract between the parties. SW Car Supermarket's legal duty is to provide the Goods as described on the face of the order form ("the Goods") to the terms of the contract.
(c) No person who is not a party to the contract may in its own right enforce any terms of the contract provided that this clause shall not affect any right of action of any person to whom this contract is lawfully assigned.
Delivery
(a) SW Car Supermarket will use its power to secure a delivery date/s, but shall be under no liability whatsoever for loss caused beyond the control of SW car Supermarket.
(b) Delivery shall only become available on a date which has been mutually agreed by SW Car Supermarket and the Customer. Goods will be physically delivered by SW Car Supermarket to the Customer on trade premises except only where agreed by SW Car Supermarket to the Customer's invoice address and at the Customer's cost. Goods delivered on trade premises will be delivered on the following address, SW Car Supermarket, Padholme Road East, Peterborough, PE1 5XL.
Price and Payment
The customer shall not be permitted to collect and take away the goods until the total retail price of the goods as stated on the order form/final invoice (whichever is accurate and correct) has been discharged in full (without set-off or counterclaim) unless this condition has been expressly excluded in writing by an authorised representative (management team or above) of SW car Supermarket. Time of payment shall be of the essence. SW Car Supermarket shall only accept payment by Cash (adhering to money laundering laws), credit/debit card (charges may apply) and direct bank transfers. All other forms of payments will not be accepted unless the vehicle is being purchased using a finance credit agreement, in which case funds will be paid to SW Car Supermarket by the finance company/credit broker directly into our business bank account. All shortfalls are to be paid in full by the Customer.
Vehicle Preparation
All vehicles come with a 114 point vehicle inspection, provenance checks, DVLA registration, smart retail detailing inclusive of a valet, a minimum 6 months MOT (where applicable) and 3 months Warranty with Warranty First. The provenance checks cover if a vehicle has outstanding finance owing, is stolen, cloned, written off or clocked giving you real confidence in our cars. All vehicle checks carried out during preparation include a rigorous assessment of each vehicle.
Administration Fee
For customers using a 3rd party finance broker, one which is outside our agreed panel of lenders (brokers such as Car Finance 24/7 and Zuto etc, that pay funds direct to SW Car Supermarket, on the customer's behalf), the administration fee is 99.00 plus vat. All admin fees are non refundable.
Failure to collect Goods
If the customer shall fail to collect and/or pay for the Goods within 14 days of delivery then SW Car Supermarket may at its option either store the goods at the customer's cost or, upon giving the customer 7 days' notice of its intention to do so, elect to treat the contract as repudiated by the customer and thereupon any sums paid by the customer shall be returned less a sum equivalent to a reasonable administration fee, any damages, loss or expenses which SW Car Supermarket may have suffered or incurred by reason of the customer's default (including as a result of selling such vehicle at a lower value) and/or storage costs and SW Car Supermarket shall be under no further liability to the customer. SW Car Supermarket may, at its option following such repudiation elect to return any part-exchange vehicle or to retain it at any agreed trade-in price (in which case the agreed trade-in price shall be treated as part of the sums paid for the purpose of this clause).
Part Exchange
In the event that SW Car Supermarket agrees to accept a used motor vehicle from the customer then the customer shall be subject to accept the following conditions;
(a) the motor vehicle is HPI clear and must be free of outstanding finance, previous accidents/repairs, other loans made against the vehicle in return for security, must not be on the loss register against theft, stolen and recovered or on the police register;
(b) the motor vehicle will be delivered in the same condition as at the date it was examined by SW Car Supermarket;
(c) the motor vehicle shall be delivered to SW Car Supermarket upon collection of the goods together with all spare key sets, registration documents, service documentation, MOT certificate, service invoices, warranty documentation and all other appropriate documentation and with the registration book completed and for the avoidance of doubt the customer shall not be permitted to collect the goods until the motor vehicle shall have been delivered to SW Car Supermarket;
(d) title to the motor vehicle shall pass absolutely on delivery to SW Car Supermarket;
(e) the exchange value quoted by SW Car Supermarket shall be binding on SW Car Supermarket for one calendar month from the date of the order, unless a different period is stipulated in the order. SW Car Supermarket at its sole discretion can choose to alter the part exchange valuation after the one calendar month has elapsed / adjust the valuation based on condition after the first visual inspection was carried out or due to natural depreciation of the vehicle.
(f) in the event of a shortfall between the adjusted part exchange valuation against the agreed order, the Customer will be liable to pay in full the shortfall to SW Car Supermarket prior to take delivery or title of the purchased order.
Cherished Number Plate
In the event of a vehicle being sold to SW Car Supermarket whether as an outright sale or part exchange, the Customer shall assist SW Car Supermarket towards the transfer of the cherished number plate via the Driver and Vehicle Licensing Agency (DVLA). Failure to claim the cherished number plate after title of goods have been passed on to SW Car Supermarket will remain the property of SW Car Supermarket and no liability will be taken by us or loss / damages.
Warranty
SW Car Supermarket shall use all reasonable endeavours to pass the benefit of any manufacturer's warranty (where applicable) on to the customer. The manufacturer's warranty does not apply if and to the extent that the defect is caused or worsened by one of the following circumstances:
(a) after discovering the defect the customer has failed either to inform SW Car Supermarket or to have the defect examined by a Dealer (authorised main agent) without reasonable delay;
(b) has failed to give a Dealer the option to repair the goods without reasonable delay;
(c) the goods or any part thereof have been subject to misuse, negligence, or accident or use for racing or similar sports;
(d) if the Goods have been repaired or maintained and that repair or maintenance has not been carried out by or through a Dealer and/or to the manufacturer's recommendations;
(e) parts have been installed into the goods the use of which have not been approved by the manufacturer or if the Goods have been altered or modified in a manner not approved by the manufacturer;
(f) instructions concerning the treatment, maintenance and care of the goods have not been adhered to.
(g) In the case of the goods being a second-hand vehicle, SW Car Supermarket shall transfer to the customer the unexpired portion of the manufacturer's warranty (if any) together with any used car warranty made available (discretionary to SW Car Supermarket) with respect to the goods as stated on the front of the order. The customer acknowledges that in the case of the goods being a second-hand vehicle the goods will be sold subject to such wear and tear as is reasonable for a vehicle of its age, type, usage and mileage; and subject to paintwork and/or bodywork repairs that may have been carried out to it. Goods which have been sold to a customer without accessories such as vehicle mats, SD Cards / CD for the use of navigation purposes etc are not to subject to warranty and SW Car Supermarket will not be held liable for this unless the accessories were listed within the advert on the SW Car Supermarket website only.
Examination of Goods and Reliance
Prior to signing the order form the customer shall examine the goods to be purchased (if such are available for inspection) and satisfy itself in full prior to making payment / commitment. If the goods are sold subject to defects and have been notified by SW Car Supermarket to the customer before the signing of the contract then no liability will be accepted by SW Car Supermarket. The customer confirms that it has satisfied itself as to the suitability of the goods for its requirements and has not relied upon SW Car Supermarket's skill or knowledge regarding the goods' fitness for any particular purpose or use.
Claims
Without prejudice to the terms of the warranty, where any valid claim in respect of the goods is brought to the attention of SW Car Supermarket for defects or workmanship of the goods then SW Car Supermarket shall be entitled at its sole discretion either to replace or repair the goods (or the part in question) or to refund to the customer the price of the goods (or a proportion part of the price), but SW Car Supermarket shall have no further liability to the customer. SW Car Supermarket will not be liable where any defect results from or is worsened by wear and tear or any similar circumstances.
Sale to Intermediaries or Third Parties
The customer confirms that it is not purchasing the goods as an intermediary or reseller unless specifically agreed by SW Car Supermarket to the contrary. SW Car Supermarket may, at its discretion refuse to change the customer's details or identity on the order or register the goods to anybody other than the customer.
Customers using a 3rd party finance broker, one which is outside our agreed panel of lenders (brokers such as Car Finance 24/7, Zuto etc that pay funds direct to SW Car Supermarket on the Customer's behalf), the administration fee is £349.00 (inclusive of VAT). This fee covers all costs which are forwarded over to us. The £349 admin fee is non-refundable upon completion of a valid transaction.
7 Day Money Back Guarantee
The 7 day money back guarantee applies to retail customers only and strictly excludes vehicles purchased for the trade or any commercial use inclusive of taxi use. Customers looking to exercise this guarantee must abide by the terms set below. This does not affect your statutory rights.
All returned vehicles are subject to a returns fee of £495 and must be returned back to us in the same merchantable quality and condition or a retail ready condition. Additional charges may apply against vehicles which do not meet this criteria calculated on a fair basis in order to return any damage to its original retail condition.
Vehicles must be returned to back to our Head Office address, SW Car Supermarket, Padholme Road East, Peterborough, PE1 5XL. We will not collect the vehicle/s. All documents and keys supplied on sale inception must be returned back to us in full.
The 7 day money back guarantee will be claimed no more than once for each customer and will become void after this point.
Vehicles purchased using an outside finance company (such as Car Finance 247, Zuto, and all external finance brokers or finance companies) are subject to a £99 +vat admin fee which is strictly non refundable.
We will aim to identify any queries to facilitate the 7 day money back return and will assist you to choose an alternative suitable vehicle to fit.
We will transfer the purchase of all additional insurance products i.e. Gap/Return to Invoice, Warranty, Smart Cover, Alloy Wheel Cover, Lost Key Cover, Mishap Cover, Monthly Paid Service Plan, to the alternative purchased vehicle. Strictly no refunds will take place on the purchase of a Full Service or Paint Protection.
Vehicles purchased on credit are eligible to the 7 day money back guarantee only under conditions where we are able to arrange funding from our panel of lenders, in order for you to purchase the alternative vehicle from us. Customers who arranged finance using lenders outside those who sit on our agreed panel of lenders will need to arrange suitable funding to ascertain the new alternative vehicle from us. Failure to secure suitable funding will void your claim and no refunds will take place.
Customers are liable for all shortfalls.
Price Match Promise
If you see a similar vehicle at another main agent or car supermarket before you come into our store at a lower price, then we will price match that price at our sole discretion subject to the following conditions;
(a) the alternative vehicle must be the same age (i.e "15" plate) and the same specification as the SW Car Supermarket vehicle.
(b) must have the same or lower mileage than the SW Car Supermarket vehicle. The mileage MUST be warranted and proof of this must be shown on receipt of any claims.
(c) a written quote must be presented as evidence of all claims made against us to our competition. Price Match Promise is only valid against a vehicle marketed with a maximum of a 30 mile radius from our business postal code. The quote must be dated prior to and/or on the same day of purchasing one of our vehicles, and SW Car Supermarket must be able to verify the availability of the vehicle either by examining the alternative dealers website or physically inspecting in person. The alternative vehicle must be available for immediate purchase and physically located within a 30 mile radius of PE1 5XL.
(d) the price promise is valid against a comparable car at a main agent or a car supermarket dealer only. Dealers trading from home or non-permanent premises will not be considered. Private cars for sale are strictly excluded.
(e) the alternative vehicle must have the same Specification as the SW Car Supermarket vehicle and must match all optional extras elected to the manufacturer when ordered new. The condition of the alternative vehicle must match exactly or in any event show a better condition when compared to our vehicle and a condition report maybe requested at the sole discretion of SW Car Supermarket.
(f) the alternative vehicle must match the quality and provenance of our vehicle i.e. the 114 point inspection check, interim service and 12 months MOT, interior and exterior condition, vehicle detailing and professional smart retail valet and a nationwide warranty inclusive of wear and tear and consequential damage cover.
(g) the price match does not apply in cases where the alternative vehicle is being offered at a CAP clean / Glasses Guide trade price or lower price. CAP and Glasses are a guideline used by the motor trade industry to determine monthly trade prices and disposals of vehicles in the UK mainland.
Loan Cars
Whilst your vehicle is within the care of SW Car Supermarket (i.e. under repair, warranty or inspection) it is not law to provide Customers with a loan vehicle. Loan vehicles are made subject to availability at the sole discretion of SW Car Supermarket and will only be loaned to customers when booked in advance. Loan cars are subject to terms and conditions and once entered into contract will become legally binding. These can be obtained in store prior or at the time of making a booking. All loan cars are subject to a refundable £250 deposit when the loan car is returned in the original condition.
Cancellation
Except as provided by law, orders made by the Customer to SW Car Supermarket may be cancelled except on terms that the customer's deposit shall be forfeit and further that the customer shall indemnify SW Car Supermarket in full against all loss (including loss of profit), costs (including the cost of all labour and materials used), damages, charges and expenses incurred by SW Car Supermarket as a result of cancellation.
Defective Goods
Without prejudice to clause "Warranty" above any claim by the Customer which is based on any defect in the quality of the goods must be notified to SW Car Supermarket within 7 days of purchase. The Customer shall satisfy itself by examining / testing / test driving the goods (although all reasonable care and attention has been taken by SW Car Supermarket to ensure the merchantable quality of the goods) prior to making commitment or entering into a contract. Should the Customer not notify SW Car Supermarket of such defects with 7 days, then the Customer shall be deemed to have accepted the Goods.
Advertising
The data displayed within our adverts (on the website or in store) details the specification of the vehicle from the manufacturer when manufacturer new. We subscribe to third party data agencies to retrieve this information. We will not be held liable for sudden changes made by outside agencies to the road fund licence, model variations or anything miscellaneous, therefore we recommend that you physically check the specification of the vehicle on site prior to purchase. This information does not form part of the buying contract with SW Car Supermarket. We accept no legal liability for any errors, omissions or inaccuracies.
Liability
SW Car Supermarket shall not be liable to the Customer under the terms of this contract, for (a) loss incurred by the Customer as a result of third party claims (b) loss of profits (c) loss of personal / business savings (d) damage to reputation (e) consequential damage of any nature.
Data
SW Car Supermarket operates within the guidelines of the Data Protection Act and is commissioned by the Information Commissioners office (ICO) for data storage and usage. Under this contract the Customer shall consent permission to SW Car Supermarket for the filing and use of the Customers personal data only to be used for direct marketing of offers, products and services which may benefit the Customer, and will not be sold to third parties.
Applicable Law
This contract shall be governed by the Laws of England and Wales and the parties shall submit to the jurisdiction of the English Courts.