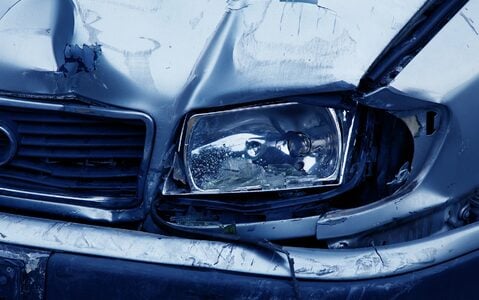 What to do in the unfortunate event of a car accident
Unfortunately, accidents on our roads occur and quite a lot of drivers have had the misfortune of being involved in one before their driving career is over. It's a horrible experience and one that can often leave us feeling helpless if we're on our own when it occurs. Hopefully we can help with this article and give you some guidance on what to do in the unfortunate event of an accident.
Firstly, when you have an accident it is important to remain calm and perform some initial checks:
Put your hazards on to warn others around you.
Check that you are in a safe place, if not and your car isn't smoking or in an unmovable state then move to the nearest safe location.
Otherwise, check it is safe to get out of your car and secure the scene and place your hazard triangle behind your vehicle and make sure there is space between you, on-coming traffic and bystanders.
Make sure to check yourself first and then others for any injuries that may require medical assistance. If you are in an accident that involves others, animals, property or is causing a hazard, then you will need to dial 999 and request emergency support. Make sure you're in a safe place when placing the call.
You will need to know some basic details when reporting the accident:
You will be asked what happened, remain calm and give a brief description of what happened.
You will be asked if you're ok so make sure you have checked yourself over for any injuries that may require medical assistance.
You will be asked if anyone else was involved and if they require medical assistance, make sure you have checked others over for any injuries, too.
You will be asked your location, if you're unsure you can use your phones map or sat nav to assist.
Once you are off the phone to the emergency services ensure that yourself and others are all still in a safe location. If anyone requires medical assistance, then assure them that the emergency services are on their way. You may be in a situation where somebody requires basic medical assistance, further information is available here - https://www.gov.uk/guidance/the-highway-code/annex-7-first-aid-on-the-road
Don't move anyone though, as doing so without medical training can cause serious damage. If someone is severely injured, then reassure them until the emergency services arrive. When reporting injuries to the emergency services they may stay on the phone to you and instruct you on how to best look after and casualties.
If you are in a minor accident that doesn't involve casualties or isn't posing a hazard to other road users, then you can exchange details with any third party and this can be resolved through your insurance companies.
You will need to take note of the following:
What happened
Date and time
Location of the accident
Details of other vehicle(s) involved:

Make, Model, Registration Number & Colour

Details of the other person(s) involved:
Full Name, Phone Number, Insurance Details & Description of what they look like
Details of any witnesses:
If you can then take photos of the scene, including your car and the other car(s) involved
Did you know? It is an offence if you either fail to stop at the scene of an accident or fail to report an accident that you are involved in. There is a penalty for each of up to £5,000 and 10 penalty points on your license. If you fail to stop and fail to report an accident then you could be disqualified from driving, or even be given a six-month prison sentence.