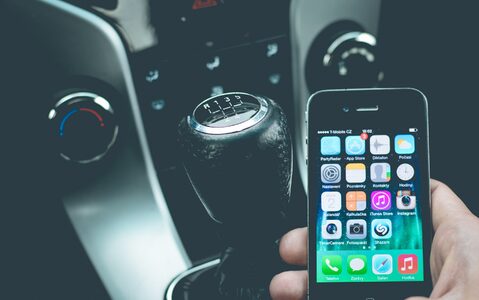 What is the punishment for using your phone at the wheel?
41% believed more visible law enforcement is needed and 22% advocate stronger penalties. Many feel that the law isn't advertised enough, with some saying signs should be displayed on our roads.
The change to 6 points is enough to ban those with less than two years' experience. To get back to driving these offenders have to retake both the theory and practical parts of the driving test.
Of course some people wouldn't dream of using a mobile phone whilst driving but others seem to do it regularly. It's probably true that people do not judge the risk of an accident, they judge the risk of being caught.
So what are the laws for using a phone or sat nav when driving?
It's illegal to hold a phone or sat nav while driving or riding a motorcycle. You must have hands-free access, such as:
a bluetooth headset
voice command
a dashboard holder or mat
a windscreen mount
a built-in sat nav
The device must not block your view of the road and traffic ahead.
You must stay in full control of your vehicle at all times. The police can stop you if they think you're not in control because you're distracted and you can be prosecuted.
The law still applies to you if you're:
stopped at traffic lights
queuing in traffic
supervising a learner driver
When you can use a hand-held phone
You can use a hand-held phone if either of these apply:
you're safely parked
you need to call 999 or 112 in an emergency and it's unsafe or impractical to stop
Other penalties you may not be aware of.
You can get 3 penalty points if you don't have a full view of the road and traffic ahead or proper control of the vehicle.
You can also be taken to court where you can:
be banned from driving or riding
get a maximum fine of £1,000 (£2,500 if you're driving a lorry or bus)