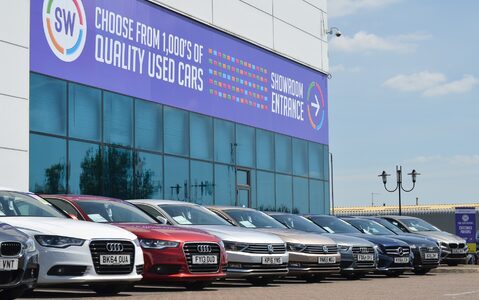 Two HUGE Locations, One Great Brand
We're here to help make your used car purchase simple and stress free! Get yourself a great deal on a fantastic range of pre-owned cars on display at our two sites in Peterborough.
You'll find our showrooms conveniently located off the A1 motorway and the A47. Discover SW Car Supermarket in Fengate and SW Car Superstore in Werrington, both offering superb condition used cars at the lowest prices.
With up to 2,000 cars in group stock and a selection of 35 makes and models on display, you'll be spoilt for choice. If you've never visited one of our car supermarkets before, prepare to be blown away by our state-of-the-art showrooms and customer service experience.
Our used cars are rigorously inspected and prepared for sale to the highest possible standards. They are presented in our relaxed and spacious modern showrooms, where our dedicated team are on hand to help and advise you every step of the way.
We're here to find the perfect used car for you at the lowest price possible. We offer a Price Match Promise where we'll guarantee to match the price of any other car supermarket or main dealer and refund you the difference.
Here at SW, we give our customers a new car buying experience at a car supermarket price. In our SW Car Supermarket showroom, you'll find a vast selection of used cars as well as workshop facilities. At our SW Car Superstore site on the other side of Peterborough, you'll discover a wide selection of premium brand used vehicles for sale.
All our stock is posted on our website and each listing provides a 360 degree interior and exterior view, accompanied by full specification and service history. We provide you with as much information as possible about each vehicle to help make your decision easier.
Our digital-only pricing system means that there are no physical price signs displayed on vehicles in the SW Car Supermarket and SW Car Superstore showrooms. Instead, we have a QR code system that links directly to our online stock listings. We make sure our prices reflect the market to give you the best price possible on your used car.
At SW Car Supermarket and SW Car Superstore, we're proud to offer you a massive choice of used cars at the lowest prices.