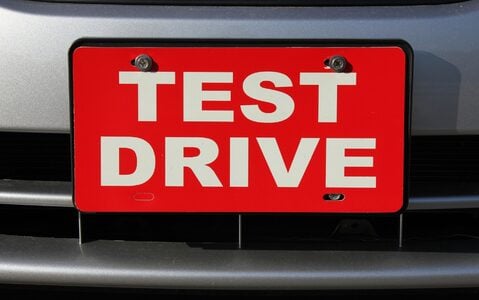 Top Tips for a Test Drive
If you're looking for your next car, then a vital part of the decision making process is taking a test drive. Different makes and models of vehicle can perform differently, so you'll want to ensure you're happy with the way it drives as well as the aesthetics.
Here at SW Car Supermarket and SW Car Superstore, we want to ensure you are 100% happy with your choice, so we'll always encourage you to take a test drive. But, where do you start? Once you've identified a car you like, book in for a test drive to check if it's the right one for you.
Make the most of your test drive
It's important to take your time on a test drive and use it wisely. We recommend you should drive the car for around 30 minutes, incorporating a variety of roads - including a dual carriageway - so that you can take the car through its paces.
You'll also want to make sure you are comfortable, so always adjust the seat and steering wheel to suit your driving style. Check that the instrument panel is visible to you and that you can clearly see important features, such as the speedometer.
Make sure you try reverse parking too, checking that you have clear all-round vision - noting any blind spots - and that you feel comfortable with the length and width of the vehicle. Finally, don't be afraid to ask questions! We're here to help and advise you in your decision, so be sure to ask as many questions as you need before, during and after your test drive.
Things to consider
Do you have young children? If so, we'd suggest you take their car seats with you to check they fit okay and can be securely fixed in place.

If you have older children that are regular passengers, you may also want them to accompany you to make sure they are comfortable in the rear seats.

Do you carry a lot of luggage? From pushchairs to golf bags, if you require a boot that can cater for large items then make sure you are aware of the dimensions required.

Do the rear seats fold easily? This may also be a key consideration of yours.

Do you require cup holders and somewhere to charge your phone? Familiarise yourself with the cabin interior to check that it is suitable for all of your needs.

How economical is the vehicle? Check how many miles to the gallon the car will do, so that you can work out your weekly and monthly petrol or diesel costs.

What insurance group is it? Often forgotten about when car shopping, if you're sticking to a budget, you'll want to make sure you know which insurance group the car is in to help you work out your monthly or annual insurance payments.
Used cars without the fuss
With up to 2,000 used cars in group stock, you really will be spoilt for choice here at SW Car Supermarket and SW Car Superstore. Our two showrooms are located in Peterborough where our great-value, high quality and superb condition pre-owned cars are housed.
Start your car search today by discovering our huge selection of used cars online. If you have a particular make or model in mind, you can reserve a vehicle for a £200 fully refundable fee ahead of a test drive. Click here to get started.