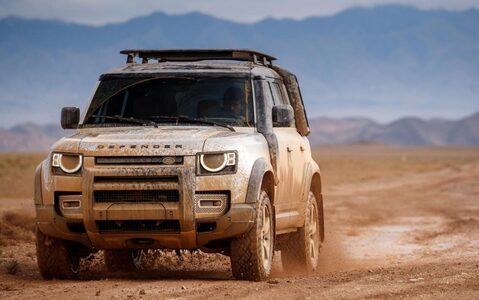 The Land Rover Defender Returns
Replacing the original Defender was never going to be an easy task and it's proved to be one that's faced strong opinion from start to finish.
The recipe of the original Defender was obviously clear. A true go-anywhere machine, the Defender was rugged and robust. Not since the rebirth of the Mini has a manufacturer faced such a monumental task and it's a task that Land Rover has gone all-in on.
The new Defender will come in the same wheelbases as the now out of service predecessor. That means that there will be a 90 and 110 option to choose from. The 110 is set to go on sale first in early next year with the 90 set to follow up to a year later.
Alongside the two choices of wheelbases, customers will also be able to choose from a wide variety of body specifications. What was loved in the first Defender was it's versatility with business and agriculture both using Defender to great effect. Land Rover has confirmed that commercial variants will be forthcoming and these will also arrive in 2020.
All Defenders will come with four-wheel drive as standard and will also have a choice of air suspension or coils. 110 will feature air suspension as standard whilst the 90 will come with coils by default, however air suspension can also be specified. In addition to the choices of suspension set up, the new Defender will also come with a choice of engines. At current, the current choice revolves around two petrol and two diesel variants with one of the petrol options featuring a very mild form of hybridisation.
From a power point of view there are options aplenty, however what about the way that this thing looks? The new Defender is boxy yet elegant with new front and rear aprons. In addition, it sports a fresh new face and key to this are brand new headlight clusters.
Inside the refresh continues. Whilst there's the latest in Land Rover tech, the interior see's exposed rivets on the door cards, grab handles to the left and right of the dashboard and a front seat setup that can be configured to have three seats or a storage compartment thanks to the dashboard-mounted centre console.
At first glance, the new Defender looks like a well-engineered machine and Land Rover is billing it to be significantly better off-road to that of its predecessor. Set to go on sale in early 2020, the new Defender looks set to be a major sales success and a 4x4 worthy of carrying the Defender name.
At SW Car Supermarket we are proud to stock a wide range of quality used cars. Whether it is Audi, BMW, Mercedes-Benz or Land Rover we are proud of the vehicles we hold and we would love to help you find your next car. Head over to our stocklist where you can start your search for your next used car.