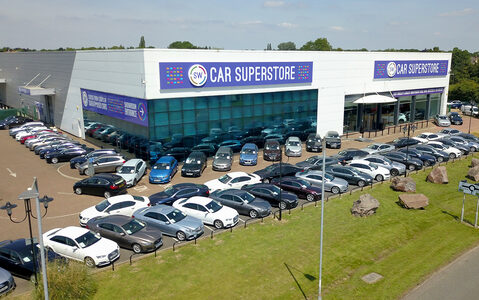 The creation of SW Car Superstore
SW Car Supermarket, home to a great selection of cars at the lowest prices. Serving Peterborough and the surrounding East Anglia area, we strive to bring our customers the largest selection of vehicles possible and the recent opening of our new SW Car Superstore has further enhanced that selection.
Coming to life off the back of several years of growth for the company, the new site at John Wesley Road opens at a very exciting time for SW Car Supermarket as we look to capitalise on our position as the largest independent BMW, Audi, Mercedes-Benz and Volkswagen retailer in East Anglia.
Purchasing the ex-Porcelanosa warehouse gave us the perfect opportunity to grow group stock and bring an even greater choice of vehicles to you, our customers.
Getting the keys to the premises back in late 2018 allowed us to start work on this new, state of the art facility. Naturally, a project on this scale required a vast amount of work and it's a testament to our staff and contractors for creating what is a fantastic space.
The first task on the agenda was to completely refit and refurbish the inside of the building. A bright and airy space already, we were keen to add our own SW twist, and in doing so, have ended up with a facility that is perfect for viewing your next car.
This is because we've worked hard to ensure that the interior space is as inviting as possible and that includes colourful branding throughout the space to provide for an engaging and enjoyable buying experience. Further tasks also included revising the layout of the building and preparing the site perimeter so that we could present our vehicles to the passing public.
One area, in particular, that has seen a dramatic change is our initial reception area where if you come and pay us a visit, you'll be greeted by a warm, welcoming and modern arrival area. Once inside relax in comfort with a hot or cold drink as you browse our extensive selection of vehicles. Furthermore, why not get interactive with us by using one of our modern and user-friendly touch screen devices that are located throughout our Superstore.
Our new facility includes a fully equipped preparation centre and space for hundreds of additional cars which now means you can choose from a mighty selection of 2000 cars across SW group stock which includes vehicles from up to 35 manufacturers and models.
We're proud of our new centre and we'd be delighted to show you around. Whatever you need from your next car, our friendly customer service team will be more than happy to help you with your car-buying journey and what's more, SW Car Superstore is open now!
Don't forget we also have our second site at Padholme Road East, Peterborough and here you can discover another fantastic selection of quality used cars. Quite simply, if you're looking for a new car, you need to pay SW Car Supermarket and SW Car Superstore a visit. To discover all of our current vehicles, please take a moment to view our used car pages here.