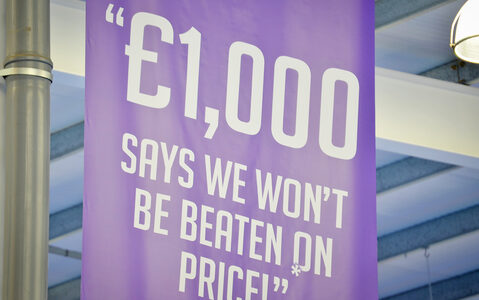 SW Car Supermarket: Our commitment to you
At SW Car Supermarket and SW Car Superstore, we go about our business differently. We believe that your car buying experience should be something to get excited about and ultimately enjoy. That's why we go out of our way to deliver the best possible service for our customers.
From the moment you make a phone call or walk through the door at one of our dealerships, you'll be treated fairly by one of our friendly customer service teams. We pride ourselves on our approach. Absolutely no pressure selling and no admin fees or hidden charges. It's how we'd wanted to be treated and it's how we treat our customers.
Transparency and trust are also fundamental to our business. We want each and every one of our customers to leave us happy and there is nothing more rewarding than seeing the smile on our customer's faces. We love what we do and we want to make sure that SW Car Supermarket and SW Car Superstore are your destinations of choice when it comes to you choosing your next car and beyond.
Below is just a selection of our favourite reviews left by some of our happy customers:
'I travelled from Watford to buy my Volkswagen scirocco from here earlier this month. Their website has 3D photos you can move around so I'd had a good look at it before travelling. The car was exactly what I wanted and was as described in the advert. Nice showroom with plenty of cars to choose from but I didn't have to look around much as I knew what I wanted. Haven't had any issues with the car since owning it and I'm happy I made the right choice.'
'After searching for the perfect Audi and even visiting Audi main dealers, SW Cars had the best selection of Audi's in town. I had a choice of nearly 200 of them which was mind-blowing but our salesman was courteous and patient so that helped us to purchase one from these. Great service and certainly wouldn't hesitate to go back again.'
'Superb level of service received here. This is not your run of the mill car dealer. After a horrific experience at another dealer in Northampton, I travelled to Peterborough where I found SW Cars. To sum it up, you get main dealer service for supermarket prices. The car was absolutely fantastic too. Great job.'
Aside from receiving the great reviews above, we've also been fortunate enough to be the winner of multiple industry awards over the years and at last years prestigious Used Car Awards in London we were honoured to receive 'Highly Commended' status in the 'Car Supermarket of the Year' category.
With the opening of our new SW Car Superstore, 2019 marks an exciting period in our history. With up to 2000 cars in group stock, there has never been a better time to buy your next car and we would be delighted to welcome you to SW Car Supermarket and SW Car Superstore. With used cars available from the likes of Mercedes-Benz, Audi, BMW and Volkswagen, our full selection can be found over on our used car pages here.