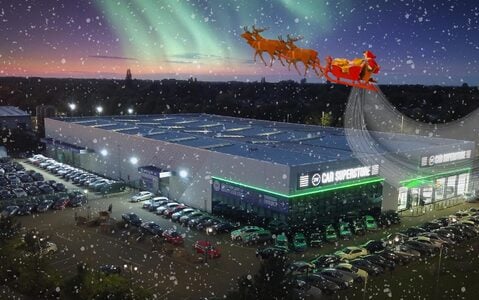 SW Car Supermarket: A Christmas Message
Christmas is here and what a year it has been. A year that saw us open our all-new SW Car Superstore, 2019 has been fantastic and we couldn't have done it without you, our customers.
Time flies when you're having fun so they say and throughout this year that couldn't be truer. 2019 has been an incredible year and we've seen the business go from strength to strength. It doesn't seem that long ago that we were getting the keys to our new SW Car Superstore location.
What followed that moment was months of hard work and effort from all involved to get our new facility to the standard that it is now. Featuring a fantastic selection of used cars from some of the world's best-known manufacturers, SW Car Superstore boasts hundreds of cars for you to choose from.
Whilst eyes may have been on SW Car Superstore, we've also been working hard to continue to grow our team and offering at our existing location in Fengate which also sees further stock for you to browse.
Our two state of the art facilities are designed to give you the very best car buying experience possible. We are able to offer a range of services from used car warranties right through to competitive used car finance.
Whatever you are looking for from your next car, you are likely to find it at SW Car Supermarket and SW Car Superstore.
Following the opening of SW Car Superstore, we've been fortunate enough to collect awards and highly commended status' for both our business and our website alike. Arguably the highlight of these accolades came at the highly prestigious Used Car Awards in November.
Shortlisted in three categories, Social Media User of the Year, Dealer Used Car Website of the Year and Used Car Supermarket of the Year, it was a massive pleasure to win 'Dealer Used Car Website of the Year'. Going live with our new website in the summer we've worked hard to ensure that our online offering gives our customers something different to the norm.
In addition, our website victory wasn't to be the only highlight of the evening as we were also recognised in the hotly contested 'Used Car Supermarket of the Year' category. At SW Car Supermarket we strive to give a customer service experience unlike any other so it was also fantastic to learn of our Highly Commended status.
To be recognised in this manner is hugely satisfying and it's a testament to the hard work our dedicated team that we are able to be in this position.
As we pause for a moment this Christmas time, we'd like to take this opportunity to thank each and every one of our customers for helping to make 2019 one of our best years to date. We look forward to welcoming you all in the New Year.