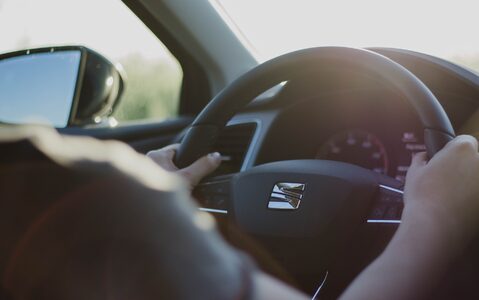 Quick safety checks for your car
It's always advisable to check your car over before a long journey to ensure it is safe and fit for purpose but you shouldn't wait until the summer road trip or the trek home for Christmas. Routinely checking your car is essential and ensures you're safe all year round.
Wondering what to check your car for? Read our safety check list below.
1. Tyres
Tyres are critical since they are are the only contact point between your car and the road. You need to check for pressure, as this has a direct result on the grip your car has on the road. To find what pressure your tyre needs you can usually find this in your cars manual or printed on the inside of the driver's side door frame.
You also need to keep an eye on your tyres tread, as too little can have disastrous effects on your cars handling, especially in adverse weather conditions. The legal limit for tyre tread is 1.5mm, but we advise you change them before they get to that level. Tyres don't just wear down the centre, so make sure to turn your steering wheel and check the inside of the tyre wall too.
2. Engine Oil
Your car needs oil to keep the engine running, most cars these days will have an oil warning light that lights up on your cars dashboard to warn you that you're running low. You can also check this manually by opening your bonnet and using the cars dipstick in the oil hole to check how much oil your car has. Remember to wipe the dipstick first and then re-dip for an accurate measure. If your car is running low on oil pop into your local garage or car part retailer and ask for oil for your cars make, model and mileage.
3. Windscreen Wipers
With winter fast approaching it is worth while checking that your windscreen wipers are working correctly. The last thing you want is to be caught out in a storm and have poor visibility. If they are worn, then pop along to your local garage or car part retailer and ask for wipers for your cars make and model.
4. Screenwash
It's frustrating when you get a dirty window and can't clear it because you have no screenwash in your car. Don't let this happen to you as it can be dangerous. Make sure you check your screenwash every couple of weeks and in winter it is advisable to keep a ready mixed bottle of screenwash in your boot.
5. Lights
To check your lights, you will need to turn them on, fog lights included and have a walk around your car to see if any are out. You will then need to test your indicators and walk around your car again.
Although the above are all obvious checks, they are fairly labour intensive. However, they can save you from an accident and potentially points on your license, so they are worth taking a bit of time out for every couple of weeks.