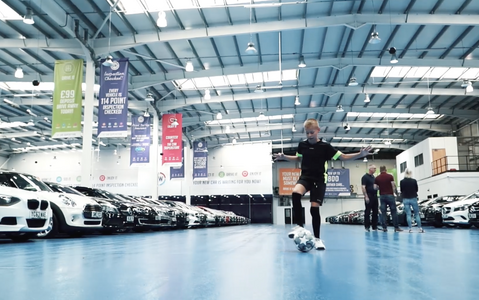 Football Stars with Everyday Cars
As we draw ever closer to the much-awaited Euro 2021 football tournament, we've taken the opportunity to find out the world's most famous football stars, who drive everyday cars - yes, really!
Despite their huge salaries, some footballers prefer to choose practicality and value over supercar speed and expense. So who's driving what? Take a look below to find out more...
Raheem Sterling's Smart Car
Manchester City and England star, Raheem Sterling, is often seen driving a Smart car! Choosing to travel to training the Smart way, Sterling clearly prefers the more compact type of vehicle and who can blame him. Click here to discover our Smart ForTwo cabrio, in stock now.
Harry Kane's Jaguar F-Pace
Spurs star and England captain, Harry Kane, enjoys the roar of a Jaguar F-Pace on his way to training. It's a great SUV teamed with sport handling, so we can see why it's his preferred choice. In stock now, check out our Jaguar F-Pace Portfolio AWD by clicking here.
Pep Guardiola's Nissan Leaf
Manchester City boss, Pep Guardiola, often chooses to leave his top-end Bentley at home, opting for a Nissan Leaf instead. The all-electric vehicle is slowly becoming more and more popular with drivers seeking a greener lifestyle. Click here to find out more about our Nissan Leaf Tekna and Nissan Leaf Acenta options.
N'Golo Kante's Mini Cooper S
Chelsea and France national star, N'Golo Kante, loves driving his second-hand cream Mini Cooper S. So much so, that he bought a second one and had it shipped to France for when he visits home. Available now is our Mini Cooper S with added John Cooper Works features - click here to find out more.
Pedro's Peugeot 208 GTI
Spanish international and ex-Chelsea player, Pedro, very happily drove around in a Peugeot 208 GTI when he played for Chelsea a few years ago. Not a car to be sniffed at, the Peugeot 208 GTI can take on sports cars with a top speed of 143mph. Check out the Peugeot 208 S/S Tech Edition and Peugeot 208 THP GTI Prestige in stock now - click here to find out more.
Score BIG at SW!
Visit our SW Car Supermarket and SW Car Superstore branches to discover the biggest and best deals on a wide range of used cars and used vans!
We stock some of the lowest priced used vehicles in the UK, which have been selected for their high quality and superb condition. All of our cars undergo a complete 114-point inspection and full provenance check for your peace of mind.
We're dedicated to helping our customers find their dream vehicle at the lowest price possible. Start your search today by browsing our used cars and used vans online.