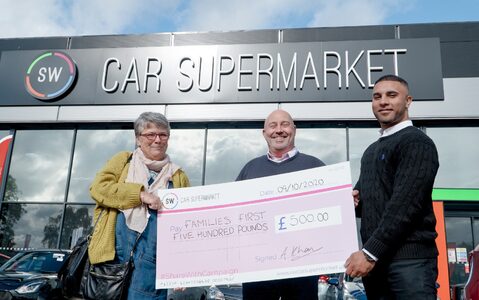 Families First Peterborough Is Our First Share With Campaign Recipient
We are very pleased to announce the recipient of our first 'Share With' charitable campaign grant. Designed to support worthy causes in the local community of Peterborough, where our two used car showrooms are based, we have chosen Families First Peterborough to be awarded the £500 grant.
We launched our Share With campaign last month (on Saturday 5th September) to mark International day of Charity. We've pledged to give away £500 to a charity or community group in support of their cause, once every three months.
We're a used car supermarket and car superstore with a conscience. We're a large employer in Peterborough and play a proud part in supporting our local community. Charities and causes wishing to be considered for the £500 Share With grant were encouraged to apply online over a two-week period.
Applications were then collated and the winning cause selected by a panel of SW Car Supermarket Group employees, including our Operations Director, John Marshall, and CEO, Anton Khan.
After much deliberation, we chose to award the £500 donation to Families First Peterborough. A Community Interest Company, Families First Peterborough is committed to supporting children, young people and families who have the most need, through positive activities.
Based in Bretton on the North western edge of Peterborough, they deliver youth work and open access play projects for children and young people aged 13 to 19-year-olds, and their families, in Bretton, Orton and Welland, as well as targeted projects for children and young people who need extra support in schools and community settings.
Founder and CEO of the SW Group, Anton Khan, explains why Families First Peterborough is the first recipient of our Share With grant. He says, "Following a flurry of applications, we are absolutely delighted to choose Families First Peterborough as our first Share With campaign recipient.
"We are passionate about our local community here in Peterborough, so it's only right that we give back where we can. It's a great feeling to be able to make a difference to a small cause that has such a big impact locally."
Operations director, John Marshall, adds, "Families First Peterborough is a wonderful cause in our local community. Their application really resonated with us and received overwhelming support from our panel of Share With campaign judges."
Anton and John were joined by Cherry Lester, Manager of Families First Peterborough, for a cheque presentation photo at our SW Car Supermarket showroom in the Fengate area of Peterborough (pictured above).
She thanked us for the donation and explained how the money will make a real difference to the children and families who benefit from the charity. She says, "Throughout the COVID-19 pandemic, we have made staying in touch with the families we support our priority as we recognise the strain it can cause on people's mental health and wellbeing.
"We are currently running our 'Let's Get Going' project, whereby we deliver goodwill parcels to those most in need. The £500 donated from SW Car Supermarket will help us to buy items for activity packs to help children occupy their time positively when at home.
"Parents, carers and young people have told us how challenging it is to not have the opportunity to go out and about, due to COVID-19 restrictions and lack of finances. It's also put a huge strain on family relationships too, so these activity packs will help them cope better in these challenging and uncertain times."
We'll be giving away another £500 through our Share With campaign in December. Applications will be open from Tuesday 1st December, with a winner announced just before Christmas. Keep an eye on our Share With campaign page for more information.