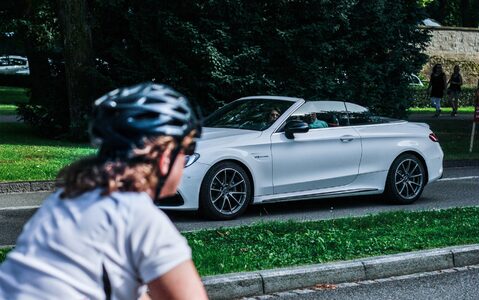 Drivers face fines for overtaking too close to cyclists
Motorists could be fined for driving too close to cyclists under a safety review
Ministers will consider reforms to penalise "intimidatory driving", and the aim is to reduce the number of cyclists and pedestrians injured on our roads.
It is considered by ministers that the measures will help to make bikes the natural choice for shorter journeys.
The review by the Department for Transport is likely to consider imposing mandatory passing distances to prevent motorists overtaking too close to cyclists.
The Department for Transport initiative comes after figures for 2016 show that 448 pedestrians and 102 cyclists were killed on UK roads – in addition to 8,537 serious injuries.
Officials will also investigate car dooring – the practice whereby drivers or passengers swing open vehicle doors without due care and attention, hitting passing cyclists.
The Department for Transport has published a 'call for evidence' ahead of its review, during which it will decide whether to join several other countries with the introduction of safe 'passing distances'.
While the Highway Code advises motorists to leave "plenty of room" for cyclists, it is expected the review will lead to the setting of a minimum gap between car and bike.
Passing distances have already been introduced in many countries, with gaps of at least one metre on local roads, rising to one and a half metres on faster routes.
Among the other issues to be tackled by the review, the topic of compulsory bike helmets is likely to enter the discussion, despite the practice having already been dismissed as counterproductive by campaigners.
The review is expected that to collate ideas using evidence from cycling groups by the start of June, with a government response due by the end of August.