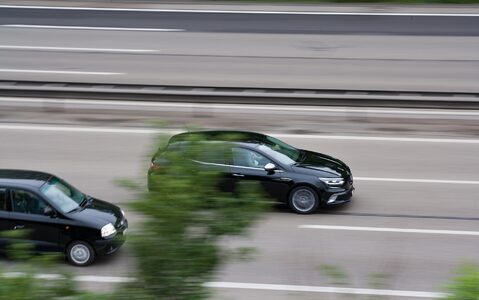 Do you practice safe overtaking?
Do you ask yourself whether it's safe and legal to do so before passing another vehicle?
Dangerous overtaking could lead to penalty points and an unlimited fine. Motorists caught overtaking recklessly face an on-the-spot fine of £100 and three penalty points. But if the police deem the offence to be serious you could receive a much larger fine, nine penalty points, and even a driving ban should your case go to court.
Did you know that the Highway Code states that if the road has a single solid white line down the middle, or a double white line with a solid line closest to you, then you should never overtake?
The Highway Code also states drivers should not overtake if it means entering into a lane reserved for other road users such as buses, trams or bicycles.
Perhaps it sounds obvious, but drivers should also not overtake in an area marked with "no overtaking" signs, or if the car in front has stopped at a pedestrian crossing, as there could be unsighted people on the road.
Even when legal to do so it still might not be safe and motorists should make sure they can pass and re-enter the traffic flow safely without cutting in or causing others to brake suddenly.
Be aware of oncoming traffic! Double white lines are there to separate the traffic, but you should always be aware of the possibility of someone not obeying them and putting you at risk.
It's OK to cross them if you need to pass a cyclist, horse or road maintenance vehicle travelling at 10 mph or less – remember though that you need to ensure you give them enough room and only carry out the manoeuvre if you are able to do this safely and not cause another road user to take avoiding action.
Undertaking, the practice of overtaking a slower moving vehicle on its left-hand side.
While it's not strictly illegal to undertake on a motorway or dual carriageway in the UK, it can be extremely dangerous, and punishable if deemed to be careless driving.
The Highway Code say about undertaking
The Highway Code advises drivers not to undertake – although it is not a punishable offence in itself.
The code states "Do not overtake on the left or move to a lane on your left to overtake."
There are circumstances when it's ok though, it advises that it's OK for a car to undertake in slow-moving traffic, if its lane is moving faster than a lane on the right. In these circumstances it's deemed safer to undertake than to weave in and out of the traffic.
The Code states: "In congested conditions, where adjacent lanes of traffic are moving at similar speeds, traffic in left-hand lanes may sometimes be moving faster than traffic to the right.
In these conditions you may keep up with the traffic in your lane even if this means passing traffic in the lane to your right. Do not weave in and out of lanes to overtake.