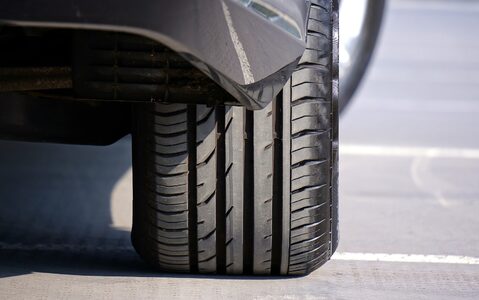 Car tyre choice is very important.
Ever had that sinking feeling when you check your car tyres and realise some or all are nearly ready for a change, it may be that you have been putting it off for a while!
Your car tyres are the contact point between car and the road and are therefore very important in terms of suitability and condition.
What should you first consider when choosing new tyres?
Firstly you will need to know the size of tyre fitted to your car, this would be the size as fitted by the car manufacturer and will be printed on the outside edge of the tyre, in raised letters. Mostly it will be in large letters but not always, you will need to look around the whole circumference of the tyre to find it sometimes.
The tyre speed rating is very important, choose a tyre with the wrong speed rating and you could invalidate your car insurance, not many people know this fact.
It is always represented by a letter for example a "W".
Once you know your tyre speed rating, you can work out what is the maximum speed your tyre is capable of maintaining. Speed ratings are based on tests in which engineers run the tyre at 6.2 mph steps, in 10 minute increments, until the required speed has been met.
When looking for new tyres you will see a large label stuck to the tread area, they are mandatory for all new tyres on sale in Europe. They look similar to the labels we see on white goods such as refrigerators. Actually, the label detail is quite easy to understand and has information will help you buy a safer, more grippier tyre which will save you fuel and help to make your car quieter and more pleasurable to drive.
What tyre details will you need to know?
All car tyre size information is standardised, so it is the same for all tyres. Below we have shown an example of a car tyre showing the size lettering: 205/55 R16 91W.
205: the tyre's width, in mm
55: the tyre's side profile, as a percentage of the width (a smaller number here indicates a 'low profile' tyre)
R16: the diameter of wheel the tyre will fit, in inches
91: the tyre's load index - the load capacity of the tyre (91 = 615kg)
W: the speed rating of the tyre - so you can match the ability of the tyre to the top speed of the car (W = 168mph).
What should I do after I have invested in new tyres?
It is important that you ensure they are well maintained and kept in the correct state.
This can be done by regular checks, checking once a month or so isn't enough, regular checking is crucial for your safety, and of course you must make sure they are in a legal state at all times.
We can help and provide all the advice you need
At SW Car Supermarket we have a fully functioning service department and supply & fit new tyres to any make of car. Our fitters will be happy to check your cars tyre condition and advise accordingly.
We always have great deals on tyres, give us a call or pop into the Service Centre.