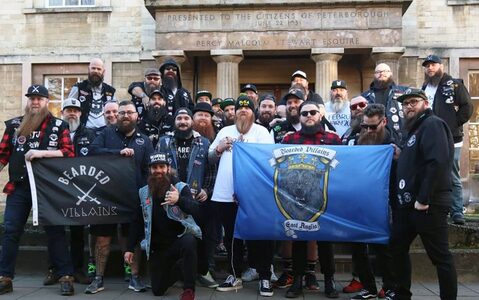 Bearded Villains East Anglia Benefits from our Share With Funding
Last year we launched our Share With charitable campaign, which is designed to support the charities and community groups in and around Peterborough, where our SW Car Supermarket and SW Car Superstore showrooms are located.
Our very first £500 grant was awarded to Families First Peterborough back in September, to support local children and their families through positive activities. Just before Christmas we once again invited local charities, causes and community groups to apply for our next round of funding.
We're pleased to announce that Bearded Villains East Anglia (BVEA) is the recipient of our most recent £500 grant. The community group dedicates its time to helping people across the county, including charity work and supporting the most vulnerable in our society.
Part of a wider network across the UK, BVEA is the largest chapter in the country boasting 70 members who all do great work across the county. In the past five years, these community heroes have raised over £10,000 for local causes and national charities too.
Some of the work they do includes providing items to the local homeless community, carrying out litter picks, delivering easter eggs and toys to hospitals, collecting public donations of food, and delivering essential items to the most vulnerable people.
The £500 funding donated to BVEA through our Share With charitable campaign, will go to support the Paediatric Department at Peterborough City Hospital's A&E. Our grant will enable BVEA to purchase items from the hospital's wish list, such as sensory lights and interactive toys.
Lee Greeves, Captain of the BVEA chapter, said: "Can I start by saying thank you for selecting us as recipients of this funding - we are honoured and it really means a lot to us. We have been working with the hospital's A&E paediatric department for two years now, since finding out that they receive no real support or funding at all. The grant will help us purchase much-needed items from their wish list."
To find out more about BVEA and their wonderful work across the county, or if you'd like to find out how to become a member, please click here.
Applications for our next round of Share With funding will open at the beginning of March. Keep an eye on our website and social media pages to find out more.